Specification
Micromodule optical cable is made of multiple fiberswith thin sheath, and has high density, small diameter and can be easily stripped by hands, normally, it has 1 to 24 cores. Micromodule integrated optical cable is composed of multiple micromodule cables stranded together.
Product application.
• Indoor integrated wiring
• Suitable for building scenes with high-density wiring, and the wiring can be operated with window cutting.
Parameters
Fiber count
Cable diameter (mm)
Cable weight (kg/km)
Minimum bending radius (mm)
Tensile load(N)
Crush load(N/100mm)
Temperature range(℃)
static
dynamic
Short term
Long term
Short term
Long term
6
1.15±0.1
1.4
30
60
660
200
1000
200
- 20℃ - +60℃
8
1.5±0.1
2.1
30
60
660
200
1000
200
- 20℃ - +60℃
12
1.5±0.1
2.2
30
60
1320
400
1000
200
- 20℃ - +60℃
48
7.6±0.5
50.5
76
152
2000
900
1000
200
- 20℃ - +60℃
144
10.0±0.5
75.6
100
200
2000
900
1000
200
- 20℃ - +60℃
288
13.0±0.5
135.2
130
260
2000
900
1000
200
- 20℃ - +60℃
Pictures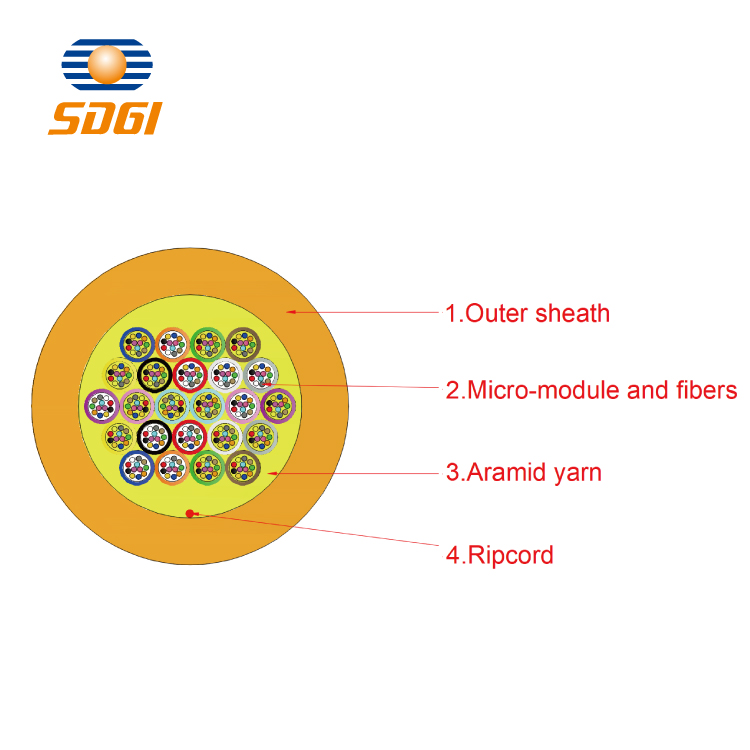 Micromodule Integrated Optical Fiber Cable