Specification
SDGI Low loss single-mode fiber (LL- SMF) is an ultra-low-loss single-mode fiber that is fully compatible with ITU- T G.652D fiber. The fiber uses the low loss technology of SDGI, which extends the coverage of the long-distance networks, metropolitan area networks,s and access network applications. LL- SMF fiber has the industry-leading performance of attenuation and polarization mode dispersion supporting the upgrading and optimizing of the network in the future. Due to the significant reduction of attenuation, LL- SMF fiber can increase the network coverage by up to 20% and extend to suburban and rural areas to provide service to millions of users who do not have access to the Internet yet. Smaller signal attenuation also benefits the flexibility of network building.
SDGI Low-loss single-mode fiber is suitable for the cable of all structures, such as loose tube type, tight tube type, ribbon type, and center tube type. Nowadays, 10 Gb/s has been the mainstream, 40 Gb/s and the 100Gb/s high-speed transmission technology has been emerging. It's the right time to build a high-performance network, and SDGI Low-loss single-mode fiber could be a great and reliable support.
SDGI uses advanced fiber optical preform rod technology to produce optical fiber products, which ensures the high quality and purity of all-optical fibers. In addition, all SDGI optical fiber products adopt a unique double UV curing acrylic coating process, which improves the reliability and durability of the fiber to ensure the best performance even in a harsh environment.
The performance of the SDGI Low- loss single-mode fiber meets and exceeds the optical fiber specifications such as ITU-T G.652D, IEC60793- 2- 50B.1.3, and so on.
Product Features
◆ Ultra-low attenuation coefficient at 1550nm.
◆ Low sensitivity to hydrogen.
◆The lower polarization mode dispersion coefficient(PMD): link design value 0.04ps/√ km.
◆ Low attenuation at the window of 1460nm: < 0.25dB/km.
◆Use advanced technology of preform rod.
Performance Advantage
◆ Support a larger span in the practical application, reduce the number of amplifiers, extend the interval of repeaters, meet the requirement of faster transmission rate, flexible application with various network components, and effectively reduce the network construction cost.
◆ It is guaranteed that the optical fiber will maintain a low attenuation in the 1383nm wavelength region even after the hydrogen age, and improve the optical fiber performance and service life.
◆ The distance of polarization mode dispersion is extended, and the relay cost is reduced.
◆ Low-cost lasers and filters are available in wider broadband.
◆ Improve pump efficiency of C- wave Raman amplifier.
◆ Higher purity, better geometry and uniformity.
Parameters
Optical Characteristics(Uncabled fiber)
Characteristics
Wavelength
Parameter value
Unit
Attenuation
1310nm
0.32
dB/km
1383nm(After hydrogen aging)
0.32
dB/km
1490nm
0.21


1550nm
0.19
dB/km
1625nm
0.21
dB/km
Attenuation vs Wavelength
1285-1330nm in Reference to 1310nm
≤0.03
dB/km
1525-1575nm in Reference to 1550nm
≤0.02
dB/km
The Point Discontinuities
1310nm
≤0.05
dB
1550nm
≤0.05
dB
Cut-off Wavelength(λcc)
--
≤1260
nm
Mode Field Diameter
1310
8.7-9.5
μm
1550
9.6-10.8
μm
Chromatic Dispersion
1285-1340
≤|3.4|
ps/√km
1550
≤18.0
ps/√km
1625
≤22.0
ps/√km

Zero dispersion wavelength(λ

0

)

--
1300-1324
nm
Zero dispersion slope(S0)
--
≤0.090

ps(nm

2

·km)

Polarization Mode Dispersion(PMD)
Link value(M=20,Q=0.01% )
--
≤0.04
ps/√km
The maximum value of single drum
--
≤0.1
ps/√km
Macro-bend Induced Attenuation
100Turns Around, 50mm Radius
1310
≤0.05
dB
100Turns Around, 50mm Radius
1550
≤0.05
dB
100Turns Around, 60mm Radius
1625
≤0.05
dB
Geometrical Characteristics
Characteristics
Parameter value
Unit
Cladding diameter
125.0±0.7
μm
Core/Cladding concentricity error
≤0.5
μm
Cladding non- circularity
≤0.7
%
Fiber furl (radius)
≥4
m
Coating diameter
245±7.0
μm
Coating/Cladding concentricity error
≤12.0
μm
Coating non- circularity
≤6.0
%
MechanicaI Specifications
Characteristics
Parameter value
Unit
Prooftest
>0.75
Gpa
109
kpsi
1
%
Coating Stripping Performance
Average value
1.0-5.0
N
Peak value
1.3-8.9
N
Dynamic Fatigue Parameter


≥20
--
Environmental Characteristics
Characteristics
Parameter value(1310/1550nm)
Unit
Temperature cycle
- 60℃ ~+85℃
≤0.05
dB/km
Water immersion
23℃,30days
≤0.05
dB/km
Dry heat
85℃,30 days
≤0.05
dB/km
Damp heat
85℃;85% RH,30days
≤0.05
dB/km
Pictures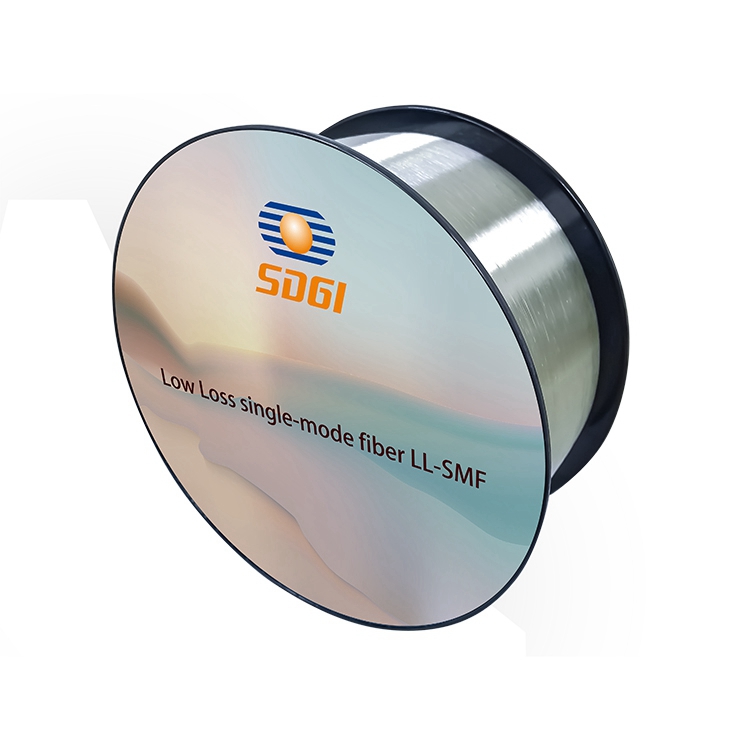 Low Loss Non-dispersion Shifted Single-mode Fiber LL-SMF